Bangor University extends student Peer Guide Awards
Bangor University's innovative Peer Guiding scheme, which enables second and third year students to support new students, has extended its Award ceremony to three Awards this year.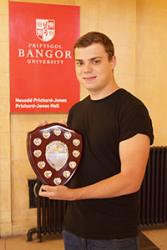 Ben Minchell received the Peer Guide of the Year Award.Ben Minchell, a third year student at the University's School of Biological Sciences received the annual Peer Guide of the Year Award. This was given in recognition of his outstanding work with new students which involved supporting people through some personal difficulties and signposting them to effective sources of help.
Ben, from Goudhurst, near Tunbridge Wells is about to complete his degree in Zoology. He was extremely surprised to have won, though he spent a great deal of time supporting new students.
He says:
"I thought being a Peer Guide would be a good experience. I like meeting people and helping people out. I enjoyed getting to know and meet people- I'm still friends with all my Freshers now. Perhaps the most challenging aspect was how busy I was, I didn't get to spend more than an hour at home all day. However, I learnt a great deal about time management and determination and saw how hard I could push myself.
In addition to the Shield, Ben received £100 in High Street vouchers. Ben, who is 21 and a former pupil of Bennett Memorial Diocesan School in Tunbridge Wells, chose to study at Bangor due to the quality of the Zoology course offered and the opportunity to get to know a different part of the country. He is hoping to stay on to study an MBA degree.
Some of the anonymous comments from his nominees included the following:
"From day one he made sure I knew where I needed to be"
"Provided amazing support when a close family member was ill
"An amazing Peer Guide who still helps me now"
"Helped me with my own issues and encouraged me to get the help I should have done earlier"
"helped me figure everything out"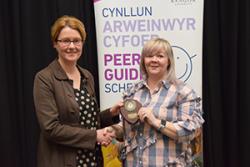 Professor Carol Tully, Pro Vice-Chancellor (Students) presents an Award to Natalie Evans.Natalie Evans, a final year Nursing Student from Wrexham, and based at the University's Wrexham campus, was the first recipient of the University's Most Effective Peer Guide Award. This was presented for Natalie's commitment and reliability, in particular for the way in which she helped organise and develop the scheme in the University's School of Healthcare Sciences.
Mature student Natalie Evans is studying Adult Nursing and is to join the A&E Department at Ysbyty Glan Clwyd when she graduates as a qualified nurse later this summer.
Natalie, who is 38 and lives in Halkyn, said:
"I chose to become a Peer Guide to help people as I remember how I felt on my first day. It's really daunting, you don't know anyone. If we Peer Guides can be there to help the new student settle in and be a friendly face it just means a lot."
Asked about her experience as a Peer Guide Natalie said:
"I've learnt a lot in all honesty, I've come on leaps and bounds doing this. I used to be really shy and quiet when I first started. The opportunity to be a Peer Guide really brought me out of myself, I'm more confident, and have even been shortlisted for the Nursing Times Outstanding Contribution to Student Affairs Award in the Student Nursing Awards because of it."
Asked why she came to study as a mature student Natalie explained that she had been encouraged by her employer and by patients when she worked as a carer for six year.
She said: "My boss and patients all encouraged me and said I'd be a really good nurse, so felt it was something I should do and I'm really enjoying it."
This was an Award based on staff nominations, some of their comments about Natalie included the following:
'attends all meetings and takes the responsibility very seriously… is passionate about improving student experiences … shares new ways of working and develops innovative ideas to best support students on the course'
'Students have shared with me their feeling of being 'well supported' and nurtured by her, … they feel 'looked after'
'leaves Bangor University a much better place for future students'
'has invested so much of their own time and expertise into this role'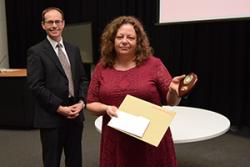 Dr Tracey Lloyd of the School of Psychology accepted an award from Ian Connor on behalf of Kevin Larkin's family.Reaching Wider sponsored a new Award this year. This was awarded posthumously to Kevin Larkin, who was studying Psychology at Bangor, for the particular warmth and inclusivity of the welcome he had extended to new students. Dr Tracey Lloyd of the School of Psychology accepted the award on behalf of Kevin's family. Reaching Wider is an initiative that helps and supports access to higher education for those who sometimes find it more difficult, provided by a partnership of higher and further education providers in north and mid Wales.
Ian Connor of Reaching Wider commented:
"This Award was thoroughly deserved and is a fitting way to pay tribute to the warmth and welcome that Kevin displayed to all."
Ian Connor added: "Bangor University has one of the largest Peer Guide schemes of any UK University and we appreciate the Peer Guides' work in helping new students settle in to life at University."
Some of the nominations for Kevin included:
"The most enthusiastic and approachable Peer Guide you could have"
"Helped me feel comfortable before arriving as I could have laugh with him"
"Was always a friend to those who met him"
"Made sure EVERYONE was OK – I'm not even in his school but he welcomed me"
Publication date: 27 April 2018