Bangor University hosts its first Polar Symposium
A 'Polar Symposium' being held this week-end (Saturday 8 December) is the first of its kind to be held at Bangor University.
The 'Bangor Polar Symposium' at the School of Ocean Sciences has been jointly organized by the UK Polar Network and the Endeavour Society, a Bangor University student society focussing on ocean sciences.
Coleen Suckling, one of the main drivers behind the event said: "This event offers students a great opportunity to experience how scientific conferences function which will certainly be a positive asset in their future careers. Furthermore we have put together a mentor panel comprising of polar experts so that students can ask
questions on "How to get yourself into polar science and general research". In a climate where we still see the effects of a recession and the job market becoming ever more competitive, we hope that events such as this helps not only promote Bangor University as a student supportive institute, but more importantly helps prepare students for their future career paths and hopefully giving them a more competitive edge. On top of this I wanted to increase awareness to the polar community about the exciting polar science which is being carried out by researchers in Wales."
Coleen is a post doctoral researcher at The School of Biological Sciences, having recently completed a PhD with the British Antarctic Survey and Cambridge University
Ben Stachen of the Endeavour Society and an MSc student on the Marine Environmental Course at the School of Ocean Sciences said: "My involvement in the Endeavour Society throughout my undergraduate period has introduced me to a wide range of environmental problems faced by our world's oceans today. The Polar Regions provide much scope for learning when it comes to environmental protection. This symposium is the perfect opportunity to learn and share what we know with each other."
Rebekah Newstead, another member of the organising committee and a PhD student at the School of Ocean Sciences studying Plankton Ecology in Antarctica said: "It's a great opportunity to host the 'Polar Symposium' at Bangor. Its creates the opportunity to bring together scientists from a range of disciplines to share their findings and experiences of working in polar regions. The event is aimed at early career scientists, giving them an opportunity to present their work and to inspire the next generation of polar researchers. Studying these relatively untouched environments is a great opportunity to investigate the impacts of global climate change and its effects on polar environments."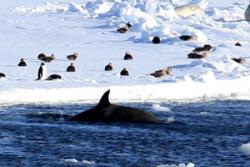 The event will provide early career scientists present their research in a relaxed environment, while also hearing presentations from leading Polar scientists. Keynote speakers include Dr Stephanie Wilson, a research Lecturer at the School of Ocean Sciences, Bangor University, Nick Hughes of the Norwegian Sea Ice Service and Edinburgh University and Chris Alger of Caleservey.
The events also focuses on career development, with an opportunity to network, gain advice on polar careers and participate in a mentor panel to answer questions from early career researchers regarding furthering their careers in polar science and general research.

Dr Chris Richardson, Head of the School of Ocean Sciences commented: "The School of Ocean Sciences has internationally leading experts in polar sciences, covering a range of ocean itself to sea ice, ice sheets- including researching the impact of disappearing seasonal sea ice cover in the Arctic on ocean circulation and European weather, and the evolution of the high latitudes over geological timescales, from the - all of which contribute to a deeper understanding of processes in the high latitudes. These places might seem remote but their fate has direct implications for all of us"
Publication date: 7 December 2012