Celebrating Excellence amongst first year students
Award-winning first year students have had their achievements recognized at a prize giving ceremony.
The annual Bangor University Entrance Scholarship Presentation evening saw prizes totalling £138,000 awarded to some of the University's brightest first year students.
Amongst the 65 entrance awards presented were thirteen Excellence Scholarships, which are given to new undergraduate students from the UK and EU who achieved the best exam results in their A levels, or equivalent final year assessments at school or college.
The Excellence Scholarships, which range in value from £3,000 to £4,000, were presented to the students by the University's Pro Vice-Chancellor Professor Oliver Turnbull.
The students to benefit from the 2014 Excellence Scholarship awards are:
Former Ysgol Friars, Bangor, pupil Daisy Hung achieved A* Chemistry, A* Mathematics, A* Further Mathematics and an A in Physics at A level. She is now studying Electronic Engineering at Bangor.
Daisy said, "I have received £4,000 and this will help me tremendously in my studies as I plan to go abroad for a year of International Experience in my third year.
"In receiving this scholarship, I feel my efforts have been recognized and it gives me motivation to continue endeavouring to achieve my goals. "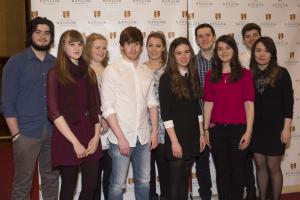 Excellence Scholarship winnersEnvironmental Sciences student Alex Moir from Bishop Auckland in Co Durham gained three As and an A* for his Extended Project at A Level.
Describing how it feels to be given an award he said, "I am extremely grateful to the University for the scholarship; it feels great to have such a big financial reward for my hard work at A Level.
This is the icing on the cake for me as everything else about my experience at Bangor is great too!"
Jerome Becks from Kettering is a first year Music student. He achieved D*, D*, D* in his BTEC Extended Diploma in Music at Tresham College.
He remarked, "I receive £3000 from the Scholarship Award, something will help me massively with my studies. I'll be able to ensure I have equipment and software needed for modules like Composition or Music Technology. It will also mean I have the opportunity to invest in instrument lessons.
"I was honestly surprised when I found out that I had won Scholarship. It is a huge boost in confidence and a reminder that working hard makes everything worthwhile! I'm ecstatic."
Publication date: 27 November 2014