Getting by in Bangor
An increasing number of students are seeking part-time employment during their time at university. Their reason might not be solely to earn money but also to enhance their employability after graduating.
Many Bangor University students and graduates turn to The B-Enterprising programme, which provides a range of services to help develop their enterprise skills or to support students in starting a new business.
One of these students is Emma Tiernan, who studies an MRes degree in Ecology, School of Biological Sciences. She has started a business with a friend selling hand sewn cross stitching products. Emma, from Dublin, and her business partner Lyndsey Waite design patterns with different themes. These can vary from keyrings, badges to door handle signs.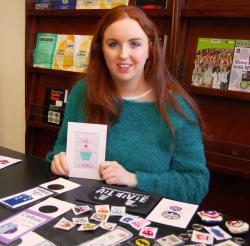 Emma Tiernan
"ProcrastaStitch focuses on handmade and cross stitch products. We sell the majority of our products online and social media. We have appeared at the B-Enterprising Bangor Student Christmas Market and hope to be able to sell at other local crafts fairs. Our goal is to gain enough momentum to be able to sell our products at ComicCon events around the UK."
Emma, 23, graduated in Zoology in Bangor, and decided to stay here to continue with her studies. Although her small business is completely different to the MRes, Emma feels that it has helped her gain additional skills.
"Its creative side is the opposite of my studies. I have improved my communication, project management and sales skills, as well as learning some basic book-keeping skills. I enjoy the biological sciences and hope to stay in research for a long career. However I would like to develop my business on the side to help fund any further research degrees."
Llio Elen Lloyd-Williams is another Bangor University student who decided to earn money during her Sociology and Social Policy degree.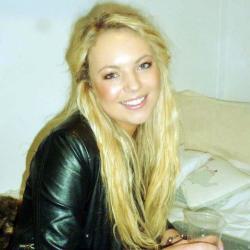 Llio Lloyd-Williams
In the summer following the end of her second year, Llio launched 'Te Bach', a catering business at her local Golf Club in Criccieth.
"Having worked for three years at the golf club during the holidays, I was offered to take over the catering side during the summer. It was a great opportunity to run my own business whilst doing what I love, cooking and baking cakes."
"Along with being more organised since starting the business, I'm also much better at working as part of a team. As problems occasionally arise, team work is really important, and as the owner, I developed my leadership skills. This was my biggest challenge of all! But all in all I feel that I have gained and developed skills that will be beneficial for the future."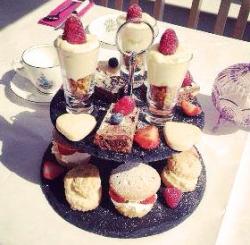 Llio, 22 has found it hard getting the right balance between working and studying.
"Working can sometimes take your attention from your studies, therefore I work during the quieter times of the academic year and during holidays. I often refuse to take orders when I have exams and assignments so that I can concentrate on my degree."
"I personally believe it's good if you can work in order to get experience of the workplace beforehand. But it's important to get the correct balance of working and studying, and studies take priority every time."
Part-time employment can be beneficial to students, as it is an opportunity for them to develop their skills, not just academic achievement. Working and studying may not be for everyone, but student Jake Sallaway-Costello's main reason was to be able to fund his degree.
Jake, from East Northamptonshire studies BSc (Hons) Clinical and Health Psychology at Bangor. During his time here he has been working at various places, ranging from being a shift manager in a fast food establishment to a Peer Guide Facilitator.
Jake Sallaway-Costello
"I would say that the jobs that have provided me with skills would be my Marketing Internship, which gave me a good idea of graduate level work, and working with an experienced academic team; my International Student Learning Adviser role which helped me to refine my communication skills when working with second-language English speakers; and my Peer Guide Facilitation role, which has given me great experience in aiding the operation of a large scale project."
After graduating Jake, 20, hopes go into research in Health Psychology, in order to pursue a PhD.
The Bangor Employability Award is designed to help students develop their skills through the extra and co-curricular activities that they choose to take part in whilst at university.
John Jackson, Employability Manager at Bangor Employability Award said:
"The ability to balance your academic achievement alongside the development of your transferable skills, from a workplace or a volunteer role, is exactly the sort of combination of attributes for which graduate employers are searching. The BEA scheme provides the platform to record your work activity, and guidance on articulating how it's all connected and relevant."
For more information about B-Enterprising and Bangor Employability Award, visit:
Publication date: 10 March 2015