£7m research programme into water, food and energy provision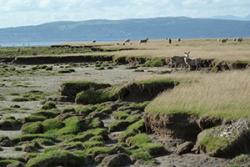 Eroding saltmarsh cliff, with grazing sheep in the back. : image Martin SkovThe first five research projects to be funded through the Welsh Governments' £7m Sêr Cymru National Research Network for Low Carbon, Energy and Environment are announced in Cardiff today (Thursday 26 March).
Chief Scientific Adviser for Wales, Professor Julie Williams, announced the five research consortia who will tackle the big challenges of water, food and energy provision in the face of climate change.
The Network Director Professor David Thomas said: "The research aims to provide a major boost to Welsh science, and to generate real benefits for food and energy production and the environment, which will underpin future government policy development".
At the showcase event for these ambitious projects at the Life Sciences Hub Wales in Cardiff Bay, Professor Thomas said: "From natural coastal defences to carbon-free energy from under our feet, these projects will aim to find solutions to the some of the biggest challenges that we will face in the future. Each of the five Research initiatives announced today will help boost Wales' research capability and create long-term economic and social benefits for Wales and beyond."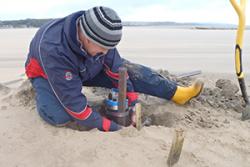 Placing a pressure sensor to measure wave heights across the foreshore in front of the salt marsh at Red Wharf Bay, Ynys Môn.Professor Thomas said: "These projects aim to look at how we work with our natural resources to ensure we have continued energy, water and food provision while maintaining the other benefits the natural world provides. The five projects announced today will see scientists from different disciplines and institutions from throughout Wales and beyond working together on cutting edge research that is highly competitive by international standards."
The five programmes of research announced today are:
AquaWales: Research into ways of maintaining and improving aquaculture in the face of problems caused by climate change, led by Dr. Sonia Consuegra, Swansea University.
Plants & Architecture: Research into the interactions between plants and buildings to improve human well-being, food security and reduce carbon emissions, led by Prof. Iain Donnison, Aberystwyth University.
Geo-Carb-Cymru: Research into CO2 storage in abandoned mines and into using geothermal heat from the Earth as a source of carbon-free, renewable energy, led by Dr. Andrew Mitchell, Aberystwyth University
Quotient: Research into improving the effectiveness of marine energy as a reliable source of power, led by Dr. Simon Neill, Bangor University.
Resilcoast: Research into the harnessing of salt marshes to protect our coastline against floods and erosion, led by Dr. Martin Skov, Bangor University.
Publication date: 25 March 2015