Bangor at the Ynys Môn National Eisteddfod
As the major provider of Welsh medium higher education, Bangor University is particularly active again in this year's National Eisteddfod in Anglesey.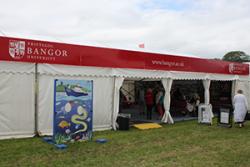 There's a full programme of events happening at the University's stand on the Maes, offering a range of activities open to all, from the 'reunion' of former students, which in the last decade has fast become a popular Eisteddfod 'tradition', to the live music on the Friday afternoon. This year, Band Pres Llarregub have been invited to bring their unique sound, and they'll be followed by a performance by the Neuadd John Morris Jones Aelwyd Choir. There's more live music from Fleur de Lys on the last Saturday also.
Pontio, the University's Arts & Innovation Centre hosts a re-run of the successful Llechi music and spoken word performance curated by folk band 9 Bach in Pontio's Theatr Bryn Terfel on Monday and Wednesday. Eisteddfod goers can sample or preview current and upcoming projects at several different locations on the Maes through the week. These include part of the Llif Project which can be seen in the Lle Celf gallery, and projected digital images from the 'Caban' poetry project with local school children, which will be seen around the Maes.
In the Eisteddfod's Science & Technology Pavilion, the University will be running a range of science activities, from psychology, chemistry and photonics to marine biology, language technologies and computing skills to attract and amuse children (of all ages!) Bangor University is again one of the main sponsors of the Science & Technology pavilion, reflecting the University's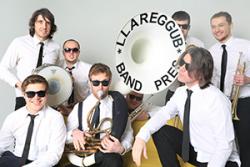 commitment to working within communities and to promoting the STEM (science, technology engineering and mathematics) subjects. The Eisteddfod Science & Technology Committee has been Chaired by Prof Alan Shore, of the University's School of Electronic Engineering, who also delivers the Eisteddfod's Science Lecture, as well as the Learned Society of Wales Eisteddfod Lecture.
The major Eisteddfod competitions are the highlights of the week. This year, the Prose Medal adjudication will be discussed Prof Gerwyn Wiliams of the University's School of Welsh and the School's Prof Peredur Lynch will present the adjudication for the Chair on Friday.
Manon Wyn Williams, Scripting Lecturer with the Coleg Cymraeg Cenedlaethol at the School of Welsh has written Hollti, Theatr Genedlaethol Cymru's production, which is being perfomed at Ysgol Bodedern throughout the week, before touring Wales later this year. Numerous individuals from the University are contributing to this year's Eisteddfod, delivering lectures or taking part in meetings and discussions on a wide range of topics.
Professor Jerry Hunter, Pro Vice-Chancellor for Welsh language and Communities said: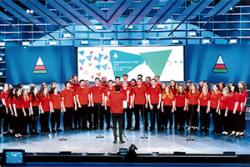 "The University's roots lie deep in the community, and the opportunity to attend the Eisteddfod is always a highlight of our year. The Eisteddfod provides an opportunity for our staff to share their enthusiasm for their subject with the public through activities, lectures and events. Another highlight, of course, is the opportunity to meet with and maintain our connections with former students, staff and members of the community, and from far and wide."
Full details and news about the University's activities at the Eisteddfod is available on the University's website at: www.bangor.ac.uk/eisteddfod
Publication date: 2 August 2017