Bangor student graduates with 'dream degree'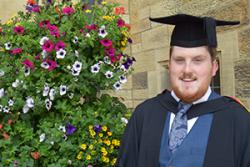 Macauly GatenbyA passionate urban conservationist graduated from Bangor University with his "dream degree" this week.
Former Sparsholt College student, Macauly Gatenby, 22, from Portsmouth graduated with a BSc Zoology with Conservation degree after studying at the University's School of Biological Sciences.
Macauly said: "Coming to Bangor from Portsmouth was a massive step. I'm part of a close family unit, where my single mum looks after myself and my three younger brothers. At times I felt that I needed to put my education on hold to get a full-time job just to support my family. However, my mum always supported, inspired and motivated me to do whatever my heart desired. During my time at Bangor I had many personal battles with things back home, such as people passing away and my mum losing our family home, but I still managed to succeed."
Macauly had always been interested and inspired by wildlife, however coming from a working class family in an urban environment, he never had actual hands on experience. He substituted this by encouraging wildlife into his own garden as well as reading countless numbers of books and watching hundreds of documentaries.
He said: "I chose the Zoology with Conservation course as I wanted to work with orangutans that weren't just in a captive environment. I didn't truly understand the possibilities and capabilities of what I could do until I settled in at university. Bangor is at the centre of many wetlands and nature reserves, so it has never-ending learning resources, right on the door step.
"During my time at Bangor I was the Senator for the College of Natural Sciences and I helped to establish and chaired a new society, the Conservation Society, which was shortlisted as best society of the year in 2016.
"I had a major role with Student Volunteering Bangor, and I led their Hear2Meet project which was run in conjunction with Action on Hearing Loss. This project enabled people with hearing loss to meet, exchange experiences, and receive any help or advice whilst also having a little bit of fun! This year I helped organise a ZipWire fundraising event for Action on Hearing Loss, and raised over £1,000. Because of this, and increasing the service users, I won the Most Developed Project Award. I also won an award for outstanding contribution to volunteering and won the gold award for outstanding contribution for the Conservation Society too. All of this led to a Santander Award in recognition of dedication and commitment to Student Volunteering Bangor, of which I am very proud of.
"I've recently been appointed to a lead volunteering role as Watch Leader with the Wildlife Trust, where once a month I'll be educating 5-15 year olds about wildlife and conservation. I believe that my experience at Bangor has helped me to excel and gain this amazing opportunity that will be invaluable to my career.
"Being partially deaf, dyslexic and having dyspraxia, I had to overcome many obstacles whilst studying, it was sometimes very hard, but the University and staff were very supportive.
"The best thing about Bangor University was being given the opportunity to do what I was passionate about, whether it be a society or a volunteering project. It is as if Bangor University believes in every single student's dreams and ambitions, no matter what they are!
"I'm now off to do an MRes in Science (Psychology) studying Orangutan Communication with the scope of progressing onto a PhD at the University of Portsmouth. One day, I hope to be a leading specialist in Orangutan Communication and Behaviour, and hopefully become a lecture at an institution such as Bangor."
Related stories:
Celebrating triumph against the odds at House of Lords
Publication date: 14 July 2016