Bangor University Alumnus honoured with top geographical prize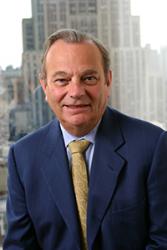 Professor Sir Gordon Conway.The Royal Geographical Society has awarded one of its Royal Medals to a Bangor University Alumnus for his work in agricultural development.
Professor Sir Gordon Conway, who studied an undergraduate degree in Zoology at Bangor University and graduated in 1959 has been awarded the Founder's Medal, one of the Royal Geographical Society (with the Institute of British Geographers)'s two Royal Medals.
The Royal Medals, which are of equal standing, have been approved by Her Majesty the Queen, and are among the highest honours of their kind in the world. They have been presented since the 1830s and past recipients include Sir David Attenborough, Professor Diana Liverman and Lord Stern.
Professor Conway, a former President of the Society, is awarded the prize for the enhancement and promotion of agricultural development in Asia and Africa.
Professor Conway was the Director of Agriculture for Impact (A4I), an independent advocacy initiative aiming to enable better European government support for productive, sustainable, and resilient agricultural development in sub-Saharan Africa, focusing in particular on the needs of smallholder farmers.
On receiving the award, Professor Conway said: "I am greatly honoured by this award. The Royal Geographical Society (with IBG) is vital to our pursuit of geographical knowledge and I am humbled to be have my research recognised by it."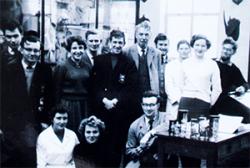 Professor Sir Gordon Conway (far right) with Professor Rogers Brambell and fellow students in the Natural History Museum.About his time at Bangor, he said: "I spent three very happy and productive years at Bangor. I studied Zoology, Botany, Agricultural Botany and Agricultural Zoology, and enjoyed sailing, climbing in the mountains, and participating in the debates in the Union.
"I went on to spend a year at Cambridge studying Agricultural Science, then a year in Trinidad as one of the first students of the Faculty of Agriculture of the University of the West indies. From there I was posted to Sabah, North Borneo in 1961, where I pioneered an Integrated Pest Management approach to cocoa crops, a cornerstone of sustainable agriculture.
"Since then I have had a very varied career, including being Vice-Chancellor of the University of Sussex and President of the Rockefeller Foundation. But throughout my career I have kept returning to my training in agriculture and food security that began at Bangor. Today, I am Senior Advisor to the Malabo Montpellier Panel, which is a group of international agriculture experts who guide policy choices towards food and nutritional security in Africa."
Publication date: 12 May 2017