Biological Sciences Alumnus pens best-selling book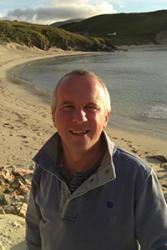 Matt LewisA Bangor University alumnus recalls a heart-thumping account of surviving the sinking of a fishing boat in the waters of Antarctica in his best-selling book, Last Man Off.
Matt Lewis, originally from Bristol, studied at the School of Biological Sciences and graduated with a BSc (Hons) Zoology with Marine Zoology degree in 1996. An avid enthusiast of adventure sports, Bangor was perfect for Matt, and many of his best memories are of his time clinging to the beautiful cliffs of Snowdonia with the Bangor University Mountaineering Society. He then went on to Aberdeen University and gained an MSc with distinction in Marine and Fisheries Science.
In 1998 at the age of 23, Matt started his dream job as a marine biologist aboard the deep-sea fishing boat Sudur Havid. Enthralled by his surroundings of icebergs, killer whales and majestic albatrosses, and heading hundreds of miles away from Cape Town towards the Antarctic, Matt soon realised that all was not ship-shape.
The Sudur Havid was less than seaworthy. Matt recognised that the safety kit was ill-fitting or absent, there were no safety drills and the skippering of the vessel was questionable. The ship hit a wild storm off South Georgia and the huge seas saw the pumps fail and water flooded in.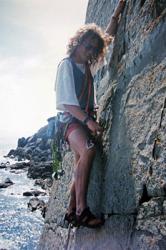 Matt climbing in Pembroke with the Bangor University Mountaineering Society.Last Man Off is Matt's compelling account of the astonishing courage, folly and tragedy at sea. The 38-man crew were forced to abandon ship and Matt lead the escape onto three life rafts, where a battle for survival results in the tragic loss of 17 lives.
Matt explained why he decided to write his book: "After the accident described in Last Man Off, I returned to the UK and tried to get on with life – pretty much pretending that nothing of any importance had happened. It wasn't until 7 or 8 years later that I started writing. Some of the other survivors have died in the intervening years, and it really bothered me that they had passed away with their story unknown."
The critically acclaimed book received a Certificate of Merit in the Mountbatten Maritime Awards 2014 for best literary contribution, was 9th on the Sunday Times Bestseller list and was chosen as Radio 4's Book of the Week in July.
Matt now lives in Aberdeenshire with his wife and two children and works as a writer and speaker.
For details of where to purchase Last Man Off, visit www.lastmanoff.com.
Related stories on the web:
Publication date: 16 December 2014