Ryan celebrates the nature of his achievement in obtaining dream job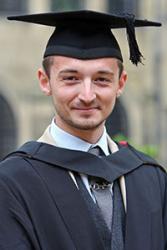 Ryan EddowesInspired by broadcaster and naturalist, Sir David Attenborough, a Bangor University student hopes to follow in his footsteps by bringing important conservation issues to the attention of future generations.
Ryan Eddowes, 22, from Wolverhampton graduates with a BSc Zoology with Herpetology degree this week, just after gaining a job as a freelance wildlife camera operator and documentary film maker for the Atlantic Whales and Dolphin Foundation based in Tenerife.
Ryan was born with clubfoot, a painful condition that affects the shape of his feet, tendons and muscles. After several operations to attempt to correct the condition, Ryan was told by experts that he would be in a wheelchair by the age of 30. He was also advised that a career involving animals would not be possible.
Undeterred by the prognosis, Ryan enrolled on a Level 3 Extended Diploma in Animal Management at Rodbaston College, Staffordshire, where he was awarded a Distinction*** and gained valuable experience assisting with setting up the College's zoo.
Encouraged by his grandparents to continue with his education, Ryan secured a place to study at the University's School of Biological Sciences. Learning so much about the natural world and developing new skills, Ryan soon discovered a passion for wildlife film-making.
Embracing opportunities that arose, Ryan had various jobs during his studies – paid and voluntary, notably a videographer and editor for Stop Poaching Now, based in Los Angeles. This experience paved the way to Ryan securing a month's wildlife film-making internship with Africa Media in South Africa.
Ryan explains: "This was the first time I travelled abroad on my own. It was here that I learned everything about wildlife film-making, from drone flying to presenting and I got to create my own film. We spent 10 wonderful days at the Schotia Private Game Reserve living in the bush with lions and zebras.
"I worked with Ryan Johnson, a marine biologist and Great White Shark expert, who has made films for National Geographic and Discovery. He taught me how to present and gave me lots of insight and tips which were invaluable to me when it came to producing my own documentaries – "Secrets of the Savannah" and "The Hunt".
The School of Biological Sciences run field trips across the globe where Ryan had the opportunity to visit Tenerife to research the sleep behaviour in short-finned pilot whales and came up close and personal with a herd of elephants in South Africa's Kruger National Park.
Ryan also joined the University's Zoological Society and its Herpetological Society where he travelled to Corfu in search of venomous reptiles.
Graduating with a 2:1, Ryan said: "It's a fantastic feeling to be graduating, not only am I the only one in my family to go to University, I'm the only one to study science, which makes me even more proud of this achievement. I can't wait to start my new job with the Atlantic Whales and Dolphin Foundation where I get to film these wonderful animals in the wild and create films about them. I'm glad that I grabbed the internship opportunity, I doubt that I would be in this position without it. My dream has come true, thank you Bangor University.
"My main objective in life is to be a wildlife presenter for the BBC because I want to encourage future generations to re-connect to our natural world. I want to create new ways of making films that shows off our beautiful world and what we can do to preserve it. The BBC are great advocates of this, and I would be honoured to be a part of their team."
Publication date: 18 July 2018